At Lipower, we take pride in offering innovative solutions to address portable battery power supply challenges. Our cutting-edge 3000 watt portable solar generator is designed to cater to a wide range of indoor and outdoor powering needs. With remarkable capacity and compatibility, the M3000 provides an efficient and reliable rechargeable power station solution for home backup, off-grid adventures, and professional applications. Let's explore the features and benefits of our M3000 solar generator.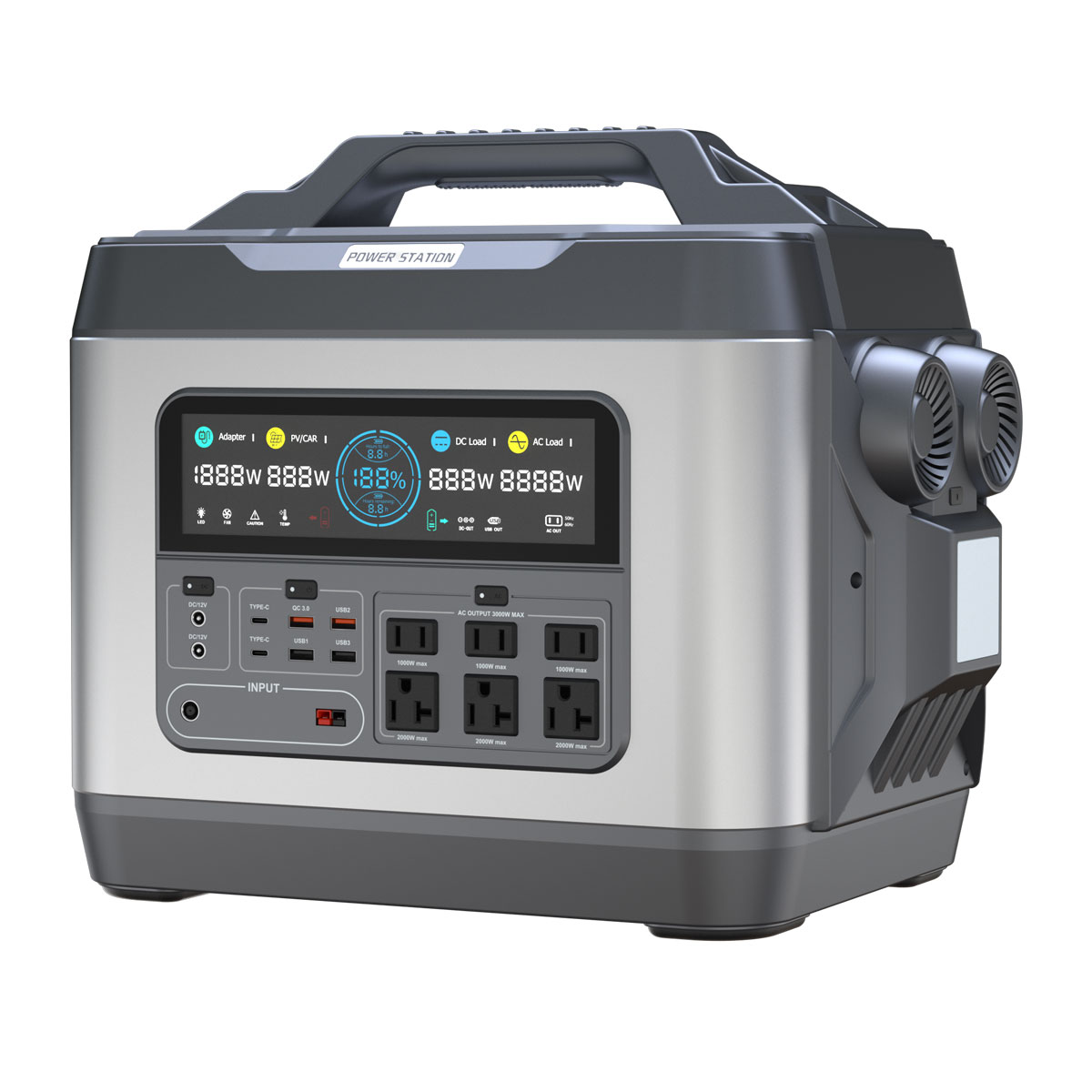 1. Unleash Powerful Portable Energy: The M3000 Specification
– The M3000 is a robust power station model, boasting a rated power of 3000W and a capacity of 25.6V 100Ah, providing a massive 2220Wh of clean energy storage.
– Measuring 466*300*370mm and weighing just 21KG, the M3000 is designed for ease of transportation and convenience.
– Equipped with 3 Pure Sine Wave AC outlets (110V~230V, Rated 3000W/Surge 6000W), 3 DC ports, 2 USB ports, 2 QC3.0 quick charge ports, and 2 USB Type-C ports, the M3000 caters to a diverse range of powering applications.
2. A Versatile Power Solution: Wide-Range Compatibility
The M3000 is engineered to meet various indoor and outdoor power needs, making it an ideal choice for home backup and off-grid adventures. With its 3000W inverter and remarkable capacity, the M3000 can support a wide array of devices, including blenders, ice coolers, fridges, projectors, and even heavy-duty electrical tools. From professional work requirements to outdoor adventures, the M3000 is a versatile and reliable rechargeable power station.
3. Empowering Your Devices: Supporting 99% of Appliances' Power Charging
At Lipower, we understand the importance of powering your essential devices. The M3000 solar generator is equipped with 10 different outlets, offering seamless power delivery for 99% of indoor and outdoor applications. From small electronics to high-power appliances, the M3000 ensures uninterrupted energy supply, empowering your devices throughout the day.
Conclusion
With Lipower's 3000 watt portable solar generator, the M3000, you can harness the power of the sun wherever you go. Our efficient and reliable rechargeable power station ensures that you have a robust energy backup for all your indoor and outdoor needs. From home backup to off-grid adventures, the M3000 caters to a diverse range of applications with ease.
At Lipower, we are committed to providing high-quality and innovative portable power solutions. With our M3000 solar generator, you can enjoy the freedom of clean and sustainable energy, supporting 99% of your devices' power charging needs. Embrace the future of energy with Lipower portable power station wholesale options and experience the difference of reliable and efficient solar energy on-the-go.